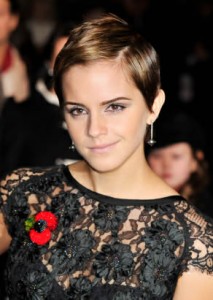 2012 was such a spectacular year for Hollywood that many are blindly expecting 2013 to be a bit of a letdown. With numerous strong performances from top actors and actresses, a slew of box office hits, and an Oscar winner in Argo that in itself glorified a moment in Hollywood history, last year was certainly one to remember for the industry. And many cinema fans are expecting to rely on other forms of entertainment this year, from books and television, to online gaming at sites like Binguez.es, as it will certainly be difficult for Hollywood to top 2012.
However, there are a few reasons to be very excited for what this year has to offer in film, and one of them that is particularly noticeable is the emergence of a younger Hollywood. In an industry such as film, there will always be a need for new, young talent, and 2013 looks to be a year in which a number of promising young actors and actresses take strides. Here are a few to keep an eye out for.
Emma Watson
Hermione Granger in her past, Emma Watson appears to be looking toward diversifying her acting career. After starring in the unique and charming "The Perks of Being a Wallflower" last year, Watson will appear in at least two films in 2013. In "The Bling Ring," she'll help to depict the true story of a gang of Hollywood teens who stole from celebrities' homes, and she'll also appear in "This Is The End," an apocalyptic comedy featuring Seth Rogen and all his pals.
Joseph Gordon-Levitt
To say Gordon-Levitt enjoyed a coming out party in 2012 would be an enormous understatement. The promising young actor has by now arrived after starring in numerous hits over the past couple years, and in 2013 he shows no signs of slowing down. He'll first appear as the star in Don Jon, a comedy about porn addiction, and is also slated for a role in the Sin City sequel, "A Dame To Kill For."
Bradley Cooper
After securing his first Oscar nomination, Cooper is right back to work, and will appear in dramas "The Place Beyond The Pines" and "Serena" in 2013. Cooper will also re-visit the goofy persona that first brought him fame in "The Hangover Part 3," and perhaps most exciting, he will appear in an as-yet untitled David O. Russell film alongside Jennifer Lawrence.
Jennifer Lawrence
The reigning Best Actress Oscar winner has fans eager for more, and she's been busy preparing films for 2013. In addition to the Hunger Games sequel coming out this year, Lawrence will appear in both "Serena" and the previously mentioned David O. Russell film alongside Bradley Cooper.
Chris Pine
After catapulting to fame in 2009's Star Trek reboot, Pine will be back in the spotlight in 2013 with "Star Trek Into Darkness," and will also be taking on the role of Jack Ryan in "Jack Ryan," an adaptation of a Tom Clancy spy series.